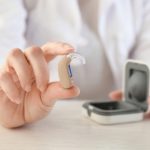 Living with hearing loss can be challenging, but with the right hearing aid, you can regain a significant part of your hearing ability. However, with so many options available in the market, choosing the right hearing aid can be overwhelming. It is important to consider various factors such as your hearing loss severity, personal preferences, and budget. In this blog post, we will provide you with guidance on selecting the most suitable hearing aid that meets your individual needs, preferences, and lifestyle.
1. Get a comprehensive hearing evaluation:
Before choosing a hearing aid, it is crucial to get a comprehensive hearing evaluation from a licensed audiologist. They will conduct various tests to determine the extent of your hearing loss, its exact nature, and the specific frequency ranges where you experience difficulty. This evaluation will serve as the foundation for selecting the right hearing aid that matches your hearing needs.
2. Determine your hearing loss severity:
Hearing aids come in different types and styles, and each type is designed to address different levels of hearing loss severity. Whether you have mild, moderate, or severe hearing loss, there is a suitable hearing aid available for you. By determining your hearing loss severity, you can narrow down the options and choose a hearing aid that provides the necessary amplification for your specific needs.
3. Consider your lifestyle and environment:
Your lifestyle and environment play a significant role in choosing the right hearing aid. If you are an active person who enjoys outdoor activities or frequently attends social gatherings, you may need a hearing aid with noise-cancellation features and enhanced directional microphones. On the other hand, if you have a quiet and less mobile routine, a basic or standard hearing aid may be sufficient for your needs.
4. Evaluate different hearing aid styles:
Hearing aids come in various styles, each with its unique features and benefits. The most common styles include behind-the-ear (BTE), receiver-in-canal (RIC), in-the-ear (ITE), in-the-canal (ITC), and completely-in-canal (CIC). BTE and RIC styles are suitable for people with severe hearing loss, while ITE, ITC, and CIC styles are more discreet and suitable for mild to moderate hearing loss. Consider the pros and cons of each style and choose the one that aligns with your comfort and cosmetic preferences.
5. Explore the available features:
Modern hearing aids offer advanced features that can significantly improve your listening experience. Some common features include Bluetooth connectivity, rechargeable batteries, telecoil, feedback cancellation, and multiple listening programs. Consider which features are important to you and prioritize them while selecting a hearing aid. Keep in mind that more advanced features often come with a higher price tag.
6. Seek professional guidance:
Selecting the right hearing aid can be a complex decision. It is recommended to seek advice from a licensed audiologist or hearing healthcare professional who can guide you through the process. They have the expertise to understand your specific needs and suggest hearing aids that align with your requirements and budget.
7. Consider your budget:
Hearing aids can vary widely in price, so it is important to consider your budget before making a decision. Keep in mind that hearing aids are a long-term investment in your overall well-being, so it is worth considering the benefits they offer. Some insurance plans may cover a portion of the cost, and there are also financing options available that can make hearing aids more affordable.
Summary
Choosing the right hearing aid is a personalized decision that depends on various factors. By considering your hearing loss severity, lifestyle, preferences, and budget, you can make an informed choice that will enhance your hearing experience. Remember to consult with a professional and take your time to explore the available options. Ultimately, the right hearing aid will significantly improve your quality of life and allow you to stay connected to the world around you.
Need a Hearing Aid Center in Vancouver, WA?
Established in 2005, Vancouver Hearing Aid Center is a full-service hearing aid store located in Vancouver, Washington. At our location, we provide in-store repairs, sales, evaluations, fittings, consultations, and exams. We also providers of LNI, TRU, and Managed Care. Finding the right hearing professional to care for your hearing health is an important step in getting the assistance you need, and we're excited to be a part of your journey! 40 + yrs in service. Drop by or give us a call today!